Mental Health Today recently wrote about Social Prescribing and Socialisation as a solution to loneliness and poor mental health. Our focus is mainly around the potential for Social Prescribing to help achieve population health gain through increased activity.
Leicester Wheels for All is following closely the move towards Social Prescribing as a way of referring patients to community activities and voluntary services. NHS England estimates that 60% of Clinical Commissioning Groups (CCGs) have commissioned some form of social prescribing scheme. CCGs tend to commission schemes based upon a core model in which link workers connect people to community groups and activities based upon individual needs.
NHS England says

There is emerging evidence that social prescribing can lead to a range of positive health and wellbeing outcomes for people, such as improved quality of life and emotional wellbeing.

Though there is a need for more robust and systematic evidence on the effectiveness of social prescribing, social prescribing schemes may lead to a reduction in the use of NHS services, including GP attendance. 59% of GPs think social prescribing can help reduce their workload.


It is widely accepted that more research needs to be done on social prescribing, but preliminary studies have encouraging results. For example, research found an average of 28% fewer GP consultations and 24% fewer attendances at A&E in instances where the social prescribing connector service was working well.
Certainly, our experience at LWFA to date has been one of trying to engage with health commissioners to offer all-ability cycling sessions to help people (particularly less-able people) to increase their activity levels which will support Public Health England's aspirations for population health gain. We put out public communications asking for social prescribers to contact us and we have yet to hear back.
On the downside – some commentators have yet to see what contribution can be made by the initiative. It has been said that getting a social prescription is like being prescribed broccoli on the NHS. We can certainly see why this might be. Where is the evidence. How are patients followed up. How do we keep the quality high without underpinning it with investment from the system. We agree that more research is needed to pin down the role that it could play and how public benefit organisations like Leicester Wheels for All can contribute.
The theory behind Social Prescribing is illustrated by the graphic below.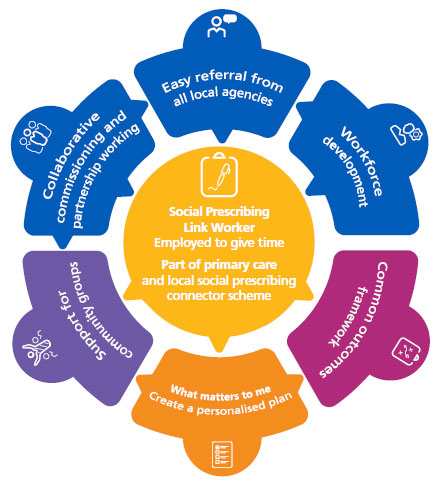 We are in touch with Exeter Medical School where they are working to develop a framework for evaluation. It is to this School that a clinical entrepreneur fellow, Bogdan Chiva Giurca, is attached. Bogdan is the driving force behind the initiative and he was the one who created National Social Prescribing Day which created a lot of positive energy See his video below: –
Professor Clive Ballard, Dean of Exeter Medical School:

"Exeter Medical School is working to evaluate and develop the evidence base for social presecribing to understand use in clinical practice"


We continue to offer to work with commissioners and medical educationalists on this exciting development and will report back later this year. In the meantime, if you have any experience of this exciting new initiative please do get in touch.
Other resources consulted when writing this blog:
https://www4.shu.ac.uk/research/cresr/sites/shu.ac.uk/files/social-economic-impact-rotherham.pdf
https://www.kingsfund.org.uk/publications/social-prescribing
What we do – About Leicester Wheels for All